(The lighting is poor...I was rushing)
Okay not exactly
, but they could be. I
obsess over
love silicone molds! They are so easy and convenient to work with because you don't have to line them and you only need to swish some water in them to clean them out. What I'm not so fond of though is the way they bunch over when you fill them with heavy soap batter. My Wilton loaf mold has become permanently misshapen, but I'm still using it.
I found these 2 pound loaf
molds
on Wholesale Supplies Plus (and they ship for free!) and they have these sturdy edges so the soap doesn't get all lean-y and lopsided. I think the technical term is "bowing." I personally prefer "lean-y." These molds are perfect for testing a new recipe or making small batches of soap.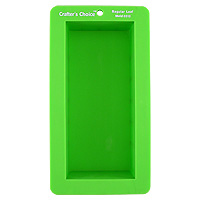 I made this batch of olive-scented soap-cpop of course. It's made mainly with olive and avocado oils. This is a very rustic-looking soap. I'm not going to touch it at all. I like how it looks. It smells very light and clean-perfect for you anti-foody scent folks. This is the type of scent you'd find in say, a bed and breakfast, or a foreign inn (yeah, like I've actually been to one).
I haven't decided if I'm going to list it yet. I still have some soap snob issues. You know, having to have your soap look "perfect" before you can sell it-at regular price! We'll see...